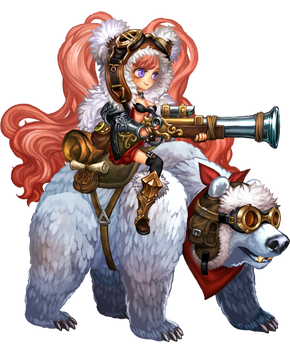 추적자, 폴라트레이시
(chujeogja, pollateureisi)

[i]
A friend to the Blizzard Bears and owner of Raytheon the Flash Trumpet, Tracy is a skilled tracker who never misses the trace of her prey.
Class
Archer
Role
DPS
Main
Bow
Offhand
Quiver
Main Attribute
DEX
Gearing Recommendation
Skill
Card

Varying Damage
Dual
Card

& VARYING DAMAGE
Weapon Effects
COOLDOWN REDUCTION
DAMAGE OVER TIME
Comment:
Effects have Keyholder capeabilties in mind.
Trivia
Her Korean name would be more faithfully translated with "Paula"
Her weapon is called Raytheon the Flash trumpet and her mount got the name Ursa.
Chaser Tracy seems to go by the most names compared to all other Deified characters. She has three all together and is referred to each one in her skill descriptions.









Community content is available under
CC-BY-SA
unless otherwise noted.