The new Daily Dungeon (요일 던전, yoil deonjeon, sometimes "Weekly Dungeon")ⓘ returned to the Korean game version in the Chapter 5 patch as a new addition to the Honor Gorge.
It inherited its name and concept from the old Daily Dungeon (Old) and Destruction Dungeon, however, it features substensial differences.
This version replaces Expedition of the Unknown in the Honor Gorge, making it no longer available since the Chapter 5 patch.
Attendance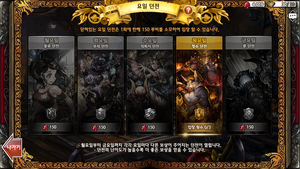 Upon entering the game mode menu, the player is presented with 5 dungeon stages to choose from. Only one stage will be open, depending on the day of the week. That dungeon will be the only one highlighted while the others are grayed-out (see image to the right).
The different types of dungeons rotate from Monday to Friday. Each dungeon drops a specific reward, exclusive to it.
Also, any Dungeon can be accessed during any day of the week for 150 

(once per day) and cleared three times total.
A player can only attend the stage of the day three times per account (not per Character), regardless of failure or success.
Battle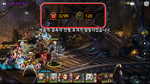 The party consists of 4 Allies, the Character and 1 Helper.
A fight only features a set amount of mobs to defeat (ex. Hero difficulty 99 mobs) and predetermined time limit.
The player can bring consumable items into the battle.
As long as attendance tries are left, the player can also choose to [Auto Repeat] the selected stage and difficulty.
Difficulty and Rewards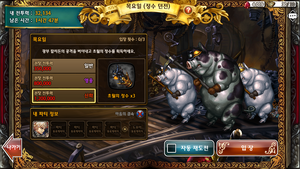 Upon entering the stage, the player can select a difficulty for the battle. Per attendance, only one difficulty can be played.
The three difficulty levels are Normal (일반), Hero (영웅), Myth (신화) (ascending order) and determine the amount of encountered mobs and the time limit, as well as the rewards.
Naturally, the strength of the mobs increases as well.
Every difficulty features a set amount of the reward given for the day.
The mobs will not randomly drop the items, but the reward of the day is rather obtained by defeating the stage as a whole.
For example, the Essence Dungeon (Thursday) rewards exactly 2 Transcended Essences for the Hero level but 3 for Myth level.
Myth Reward
Monday
Tuesday
Wednesday
Thursday
Friday
Saturday
Sunday
1x SSS Ally
2x U Jewelry
12x C Referral Scrolls
20x Transcended Essences
36x Random Rune shards
12x Transcended Equipment fragments
20x Arch Buster equipment