Jewels are obtainable through dungeon drops, the arena shop and summons using friend points or rubies. They can be equipped to any kind of SS+ chapter 2 gear and will add a certain amount of INT, DEX, STR, STA, depending on the type, to said gear.
Jewel Types and Stats
Edit
Ruby
Adds STR
Sapphire
Adds INT
Emerald
Adds DEX
Opal
Adds STA
Stats of Normal Dungeon/Summon Jewels
Jewels have rarity grades in which higher grades give higher stat values.
Grade C - basic stat +12
Grade B - basic stat +16
Grade A - basic stat +22
Grade S - basic stat +31
Grade SS -  basic stat +44
Grade SSS -  basic stat +66
Grade U - basic stat +105
Stats of Coin Shop Jewels
Only SS (cost of 440 Coins) or SSS (cost of 1760 Coins) are available in the Coin Shop. They have higher stats than a regular SS/SSS Jewel. Note that the costs has changed with the Chapter 3 Patch.
SS - basic stat +50
SSS - basic stat +71
Combining Jewels
Edit
To obtain better Jewels, 10 jewels of the same grade can be combined into one of a higher grade. SSS jewels cannot be combined since that is the highest grade available. The process is displayed in the following slideshow. (KR version in the example).
Note: You will need 100,000 C Jewels for 1 SSS Jewel. Remember the Gold cost involved...
Socket System - Equipping Jewels
Edit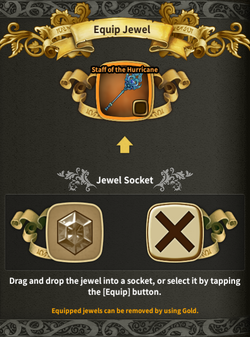 Only gear that is dropped in Chapter 2 dungeons/raids will have a socket for Jewels excluding accessories. First, the equipment that you want to equip a jewel with needs to be selected. There will be a Diamond shaped button at the bottom of the window. Press that and then choose the jewel you want to equip and tap [Equip].
SSS grade equipment have 2 jewel sockets.
SS grade equipment have 1 jewel sockets.
Sockets can be expanded to one more than usual including accessories which originally don't possess any socket. The price is fixed regardless the grade of the item.
Accessory for 99 Rubies
Equipment for 49 Rubies
Removing Jewels from Gear
Jewels can be removed from equipment using Gold and will be necessary as you obtain stronger gear over the course of your adventure.
Removing jewels cost gold equivalent to its grade.
Grade U - 345474 Gold
Grade SSS - 230,316 Gold
Grade SS - 107,508 Gold
Grade S - 49,461 Gold
Grade A - 22,253 Gold
Grade B - 9,730 Gold
Grade C - 4,200 Gold