| | | |
| --- | --- | --- |
| " | Krr... Nordic Hammer! | " |
Karang of the Golden Hammer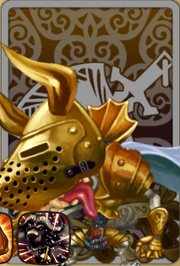 Karang, the legendary White Gnoll, killed a bear at the age of 10 to become the Gold Gnoll. He is currently training to become even stronger.
| | |
| --- | --- |
| Role | DPS |
| Main | Longsword |
| Offhand | Longsword |
| Main Attribute | STR |
Skill
Effect
Cooldown
(Active 1)
Head Bonk
Gnolls are able to use their hard heads as weapons.

Inflicts 661% damage.

11.8 sec
(Active 2)
Nordic Hammer
Annihilates those bullying the Gnolls with the Nordic Hammer infused with heaven's golden light.

Inflicts 310% damage on all enemies.

26.5 sec
(Active 3)
Attack Flare
Gnolls may appear to be easygoing, but sometimes they'll become enraged.

Increases ATK by 77% of base ATK for 39 sec.

47.3 sec
(Passive 1)
Mighty Gnoll
Power is the root of all action. Gnolls constantly work to strengthen themselves.

Increases STR by 13%.

(Passive 2)
Bossy Gnoll
Gnolls who know no fear are able to face strong enemies.

Inflicts additional damage equal to 27% of base ATK when battling a boss.