| | | |
| --- | --- | --- |
| " | Ooh, look at that handsome fella! | " |
Angel of Fire, Llywelyn the Fiery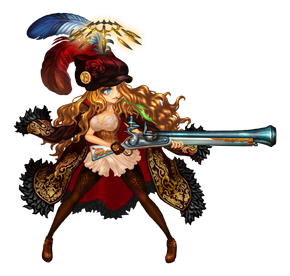 불꽃의 천사, 리우엘
(bulkkoch-ui cheonsa, liuel)

[i]
Llywelyn can hit targets far away. Bullets shot from Rheinmetall cause incurable damage.
Class
Archer
Role
DPS
Main
Bow
Offhand
Quiver
Main Attribute
DEX
Gearing Recommendation
Skill
Card

Crushing the Strong
Dual
Card

& BOSS DAMAGE
Weapon Effects
COOLDOWN REDUCTION
DAMAGE OVER TIME
Comment:
Use WB gearing.
Trivia
Rheinmetall is derived from the german words "reines Metall" which means "pure metal".
Llywelyn's shooting is unparalleled. She managed to interrupt Brightspark and Bloodwind's fight by shooting from a distance of 3 miles according to Bloodwind's estimate. Although she could not land the killing blow, she managed to injure a Quinque Draco at this distance which shows her caliber as an Septem Archangeli.
She kills Ackard during a confrontation between the main character, Ravengale, and Blackaria in Infernal Fortress Entrance, because he shielded Blackaria.
She is one of the last Septem Archangeli to be absorbed by Ragnarok.
The brooch on her hat shows the classic image of an Archangel from the Bible.
Llywelyn is a Welsh name, although it is traditionally a male name. It is the Welsh form of the name Lugubelenus, which is a combination of the name of two Celtic gods name Lugus and Belenus.
Llywelyn's original Korean name is Liuel and she seems to be named after the archangel Uriel, whose name means "God is my light." This is fitting as she is known as the Angel of Flame and Uriel is known for carrying a flaming sword and is also called the Flame of God.
She is the first Archer Ally to use a gun rather than a bow or crossbow as her weapon, although she uses both bows and quivers as equipment.
Community content is available under
CC-BY-SA
unless otherwise noted.