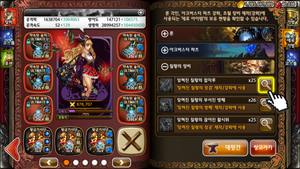 The Material Bag functions as an addition to the Storage Inventory. It is accessed through the character inventory which now features tabbers on the far right of the screen (similar to the far left tabbers for costume menu etc.).
The feature was added with Korea's 10th August 2017 Patch.
The Bag contains 3 special shelves for
and therefore remove them from the regular inventory space.
The Materical Bag is shared for all Characters of an account.
It automatically displays the number of the corresponding items and through the magnify glass the player is immediately lead to the combine menu or Arch Buster menu.