Maintenance will be held on:

Thursday, April 18, 2019 from 10:00 - 12:30 KST
Official patch notes can be found, HERE
Infinity Double Summon Event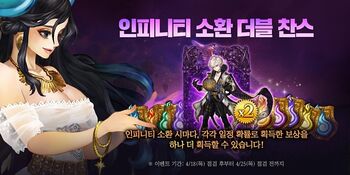 Event will be held from 4/18 (Post Maint.) until Maint. on 4/25 KST
Chance to earn 2x drops of either: Gaia Souls, Soul, or Infinity Cards.
Applies to Free Summons
Applies to single summons (Daily Summon)
World Boss Event
Event will be held from 4/22 until 4/28 (until weekly Reset)
Earn 50% extra Ruby and Coin from World Boss rankings during event time.
Daily Dungeon Event
Event will be held from 4/18 (Post Maint.) until Maint. on 4/25 KST
Earn Double (2x) rewards from Daily Dungeons during event time.
Raid Buff Update
After Maintenance on 4/18, there will be a daily Raid Buff time between 14:00 - 17:00 KST every day.
During this time, Raid will drop an extra reward chest.
Please note this is during the same time that 50% Gold Reduction for enhancing items.
Community content is available under
CC-BY-SA
unless otherwise noted.