This article is a stub & doesn't meet wiki standart yet.
You can help by editing it.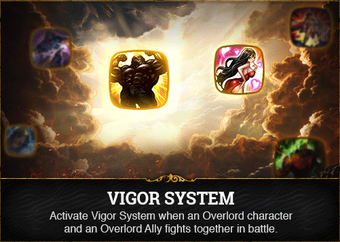 The Vigor System (패기, paegi)ⓘ is a passively active system similar to the Retention Effects.
The aura admitted from the player's strongest allies force their enemies into submission.
It was introduced to the Korean game version with the SECOND IMPACT patch.
Vigor Skills are a set of skills which are automatically acquired and activated when an Overlord grade Unit enters the battle, may it be a Character or Overlord Ally.
The skills are pre-set and categorized into 7 types. Even when multiple Overlord Units with the same Beat Up Skill enter the same battle, the skill will not stack. Therefore it encourages the inclusion of many different classes of R ranked units into a PVP battle, in order to benefit from a wider variety of debuffs/buffs instead.
| Name |   | for Class | Effect |
| --- | --- | --- | --- |
| Overwhelming | | Warriors | Reduces enemy's ATK by 14% |
| Control | | Archer | Reduces enemy's ATK Speed by 15% |
| Truth | | Priests | Increases enemy's received MG damage by 15% |
| Eternity | | Mages | Reduces enemy's cooldown recovery rate by 10% |
| Suppression | | Rogues | Reduces enemy's main attributes by 15% |
| Weakness | | Paladins | Reduces Maximum HP by 10% |
| Absoluteness | | Incanters | Increases enemy's received PHY damage by 15%. |
Trivia: Without much game significance, both Vigor and Overlord use the same hangul (패, pae-)ⓘ which shows their relation: The Kings, Lords, Supreme and Suppressors wield the enemy suppressing skills.
Season 6 Vigor
With the introduction of Season 6, the main Characters got their Vigor effects reworked. They don't share them with Overlord allies any longer.
| Name |   | Character | Effect |
| --- | --- | --- | --- |
| The Power of Bravery | | Warrior | While using an ability, decreases enemy attack power by 5% and receive 75% of the enemy's final damage (25% is absorbed). |
| The Power of Shooting | | Archer | While using an ability, increases enemy received PHY damage by 5% and receive 75% of the enemy's damage (25% is absorbed). |
| The Power of Blessing | | Priest | While using an ability, reduce enemy ATK SPD by 5%, and receive 75% of the enemy's damage (25% is absorbed). |
| The Power of Mystery | | Mage | While using an ability, increase the MG damage received by enemies by 5%, and receive 75% of the enemy's damage (25% is absorbed). |
| The Power of Secrecy | | Rogue | While using an ability, reduces the Main Stats of the enemy by 5%, and receive 75% of the enemy's damage (25% is absorbed). |
| The Power of the Guardian | | Paladin | While using an ability, enemy STA is reduced by 4%, and receive 75% of the enemy's damage (25% is absorbed). |
| The Power of Summoning | | Incanter | While using an ability, reduces the enemy's cooldown rate by 4%, and receives 75% of the enemy's damage (25% is absorbed). |